3 Amazing Small Loft Design Ideas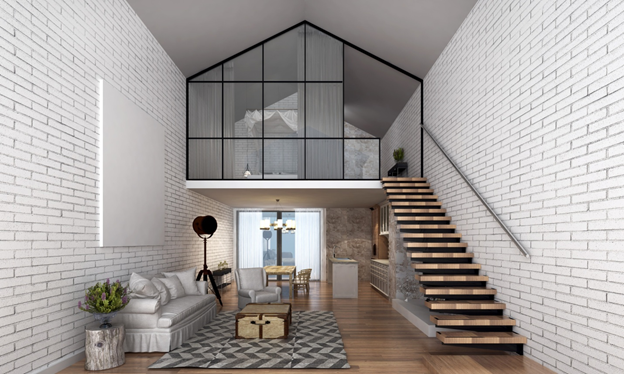 Small lofts are a great opportunity to create a unique space with a lot of character. When it comes to designing a small room, it can seem like you're stuck with only white walls and a futon. With a few tips and tricks, though, you can develop a space that reflects your taste and is functional.
This guide holds a few amazing small loft design ideas that can help you turn your house or apartment into your dream home. We'll cover things like color schemes, furniture, and accessorizing. Come along and make your home space something you're proud to be in.
As a Home Office
If you live in a small home or apartment, you may not have the luxury of a spare room to use as a home office. However, if you have a loft or an attic loft, you can easily turn this space into a functional and stylish office.
To get started, consider the layout of your loft and how you can best utilize the space. If you have a large open area, you may want to create a standing desk and seating area. Or, if you have a long and narrow loft, you can create a sleek and modern workspace with a floating desk and shelving.
In terms of decor, go for a clean and minimal look to make the most of your small space. Stick to a neutral color palette and add in pops of color with art and accessories. And don't forget to take advantage of natural light by placing your desk near a window.
With a few well-placed pieces of furniture and some strategic lighting, you can create a functional and stylish workspace that's perfect for getting things done.
As a Studio
If you have an empty loft that you're not sure what to do with, consider using it as a studio. This is a great way to make use of the extra space and it can be a lot of fun.
There are a few things you'll need to do to make sure it's functional and comfortable. First, you'll need to insulate and soundproof the space. Loft insulation and soundproofing will help to keep the noise from bothering your neighbors or family.
Next, you'll need to add some lighting and ventilation. You can do this by installing some skylights or windows. Finally, you need to furnish the space with things like a desk, chair, and some shelves.
With a little bit of effort, you can turn your loft into a great studio space.
Loft for Storage
If you are considering using your loft for storage, there are some amazing small loft design ideas that you can use to make the space work for you.
Start by decluttering your loft. This will help you to maximize the storage space in your loft. Consider investing in some storage containers. These can be used to store items such as holiday decorations, out-of-season clothing, or extra bedding.
Choose From One of These Small Loft Design Ideas and More
If you're lucky enough to have a loft, you can use it however you like. You may want to use it for storage, as a home office, or even as an extra bedroom. Small loft design ideas can help you maximize your space and make the most of your loft.
Feeling inspired? So are we. Check out more of our blog posts to learn more about home design and beyond.