4 Gorgeous Kitchen Remodel Ideas for 2022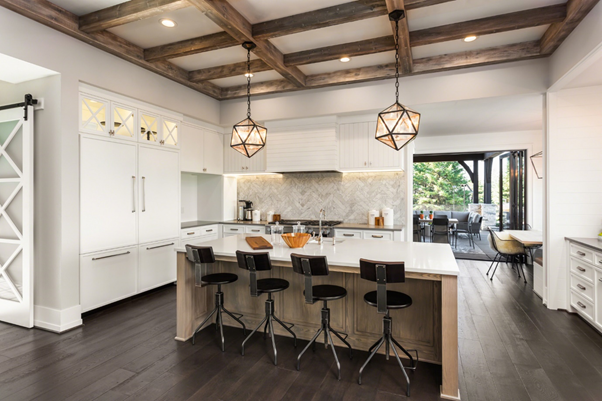 Your kitchen is the heart of your home. Have you ever noticed how most people gather in the kitchen during parties and get together? Kitchens emanate warmth and joy, making it the perfect place to spend time.
If your kitchen is outdated, you may avoid hosting and order takeout more often than you cook. Looking into kitchen makeover ideas can help you learn to love your space.
On the hunt for kitchen remodel ideas, but not sure where to start? Keep reading to get inspired before starting your next project.
Go Green
Though "go green" often refers to helping the environment, taking this literally is one of the most popular kitchen trends in 2022.
Painting your cabinets green is on the rise! Gone are the days of brown wood accents, as forest and sage greens take control. Paired with gold hardware, this vintage-chic style is on the rise.
However, you can take it one step further and invest in energy-efficient appliances to go green, literally!
Cottagecore
Another one of the most popular kitchen design trends taking the internet by storm is cottage-inspired interior. Inspired by the English countryside, this kitchen is light and airy.
To achieve this, invest in light wood, white cotton curtains, and rustic decor. Wire baskets make for great functional and aesthetic storage, while metal and floral elements can help bring this design to the next level.
Open Cabinetry
If you're strapped for storage, you may want to look into open cabinets. Not only can this save you money during your kitchen remodel, but there are plenty of benefits.
This minimalist style is one of the newest kitchen renovation trends, as it makes your kitchen appear more open and inviting. You can also show off your unique dish sets and use them as a focal point in your kitchen.
Just remember, you'll need to keep your shelves organized for this style to succeed! If there is too much clutter, it can draw the eye negatively.
Breakfast Nook
If you're tired of grab-and-go breakfasts, carving out a nook in your kitchen can help you slow down and enjoy your homemade meals. You'll want to enjoy your time spent in this cozy alcove.
A breakfast nook can be used for any meal, as it provides ample seating. These spaces foster an intimate environment, encouraging family time. Whether you share coffee and meals or hold game night, you'll find yourself gravitating towards your nook.
Beautiful Kitchen Remodel Ideas You Can Try
When it comes to your kitchen, you'll want to make sure that you pick the best interior design.
Though the functionality of your kitchen is crucial, the design of your space is essential to ensuring that your kitchen is warm and inviting. After all, you want a space that's great for cooking, hosting, and chatting!
If these kitchen remodel ideas have you ready to rip out your current space, you'll want to check out the rest of our website. There, you'll find more great home tips and tricks.