5 Workplace Design Advice for a More Productive Singapore Office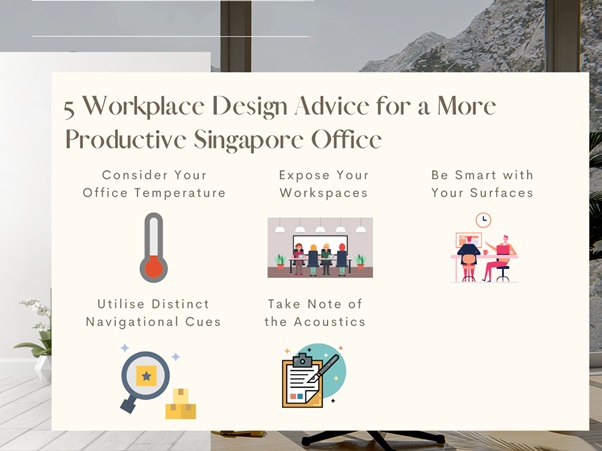 There are already many pieces of office design advice for companies in Singapore all over the internet. Nonetheless, here are five more tips to help increase productivity in your office.
#1 Consider Your Office Temperature
Designers can arrange similar areas together to make HVAC zoning easier. An expert suggests planning how you will use a room ahead of time. It's all about being strategic with your zoning and grouping together jobs that are likely to occur in the same zone.
#2 Expose Your Workspaces
Plenty of natural light may help you save money on artificial lighting, and your staff will like the view. Consider placing open and group areas around the periphery and reserving private offices for the interior. Use glass fronts for inside private offices to take advantage of any daylight that enters the core.
#3 Be Smart with Your Surfaces
One of the best pieces of workplace design advice for your office in Singapore is being smart with your surfaces. The best place to use whiteboard paint is on the walls in a huddle or brainstorming room. Changes in the flooring is also a subconscious cue to users that they have entered a different type of space.
#4 Utilise Distinct Navigational Cues
You can use surfaces as a navigation device, in addition to their various functions in the office. Use the floor to experiment with different textures and colours. Make use of indoor markers, such as art or familiar sights, in the workplace design of your office in Singapore. It will assist individuals in orienting themselves.
#5 Take Note of the Acoustics
Never overlook concerns of privacy and noise in open workplace designs. There are a few things you can do to improve the acoustics of existing facilities. If you're going to utilise a hard surface, like tile, make sure to include a sound-absorbing feature.
Design the interior of your office with ID21. They are one of the leading commercial office interior design firms in Singapore. ID21 is a company that specialises in workplace transition and design adaptation.