How to find the best floor plan creators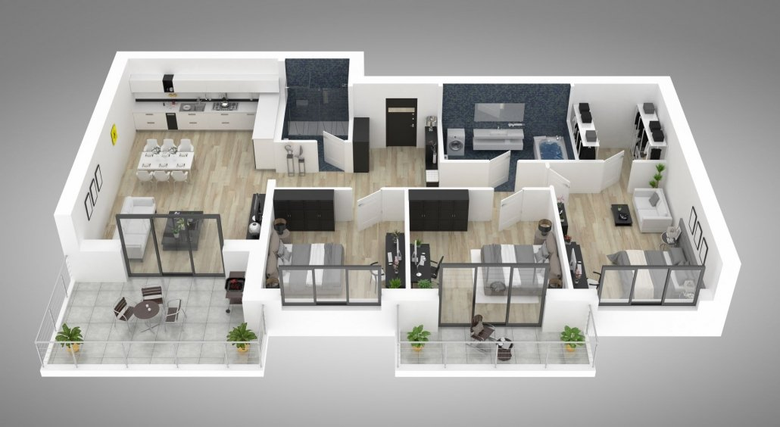 A floor plan creator is an architect's best friend. Whether it is creating the basic floor plan or presenting a fully rendered 3-D model to your clients, a floor plan creating tool is your best friend. A basic floor plan is required before every construction starts.
Whether it is an office space or a home, any client first wants their architect to present them with the basic outline of their vision before starting with the other details such as budget. A good floor plan makes it easier to create a budget and helps your customer visualize what you are planning to do.
How do floor plan creator tools work?
A floor plan creator is straightforward to understand and operate. It takes all the relevant details such as measurements, alignments, and angles and generates a 2-D blueprint of the floor space. It creates the framework over which the construction work is then done. Some creator tools can go one step further and provide the option to generate a complete 3D rendition of the construction space.
Floor plan creation is not a new concept and has been around for quite a long time. Architects drew floor plans with measuring tools and other excessive commodities. Gone are those days, as with the right floor plan creator tool, you can generate a floor plan digitally much more quickly and with much less hassle.
Since there are many different options available to choose from, having a checklist to find the best floor plan creator is a good decision.
Find software that's easy to use: the primary goal of any floor plan creating tool should be ease of access. Whether you are a designing enthusiast looking to chalk up a new design, or a professional architect, the same software should serve the needs of both. Not all of us have expert knowledge on using CAD or other avenues of designing. So having software that works for all is an excellent option to go with.
Value for money: if you are looking for a free floor plan creator, you should find one that offers basic designing options in its free version. Most floor plan creator software provides a limited trial version, following which you can pay for the full version. Some of them also have a project-wise payment scheme that allows you to pay for every project you use the software for. Find software with the correct pricing to get the most value for money.
3D rendering: it becomes a thousand times easier to make the client understand a floor plan if shown in 3D. So getting a floor plan creator that has 3D rendering capabilities can be a good choice.
Finding the right floor plan creator isn't the most straightforward task to do. There are different options to choose from, each with a hundred various confusing features. By following the essential checklist that we discussed above, you are sure to pick the floor plan creator that works best for you. So get busy designing and create the perfect floor plan for your masterpiece.