How to make your own dog house from scratch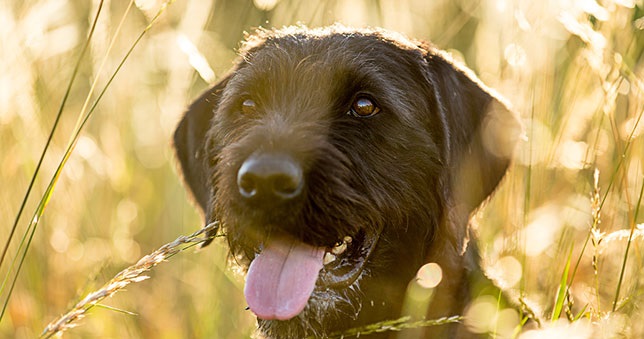 Building your own dog house from scratch is a great way to spend a weekend. It's also a pretty nice thing to do for your dog.
If you want to build a functional dog house from scratch, that's pretty easy but also very functional, here's what you need to do…
Gather Supplies
In order to make your own dog house you'll need
¾ inch Sheets Plywood x2

Cedar Shingles (1 Pack)

Pallet Wood

2×4 x1

A Solar light

Paint

Liquid Adhesive ( No More Nails)

Silicone Caulk

Hinges
Step One
Use a straight edge and circular saw to cut out each piece of your dog house from the ¾ inch plywood, referring to the link above for the pattern. 
Step Two
Now you will need to find the right angle for the roof. You can easily do this using a straight edge. Once you've found the angle, mark it on the wood and then use a circular saw to cut the wood accordingly.
Step Three
Every dog house needs a door, so use a jigsaw to cut an opening large enough for your dog out of the front doghouse panel.
Step Four
Once you've cut out all the pieces in the pattern, take some 2×2 pieces of wood. You can use these as corner braces while you glue all of the parts of the main body together using a liquid adhesive such as No More Nails.
Step Five
Attach a set of hinges to the top of the construction and use those to attach the rood. Once that's done, you can attach the floor (which you can make by joining the slats of a pallet or two together) using a couple of right-angle brackets in every corner.
Step Six
Anywhere you have connected two board together, apply silicone caulk. This will help to ensure that your doghouse is weatherproof.
Step Seven
Now, it's time to apply a coat of paint. You can choose any colour you wish and feel free to have fun with interesting patterns- just make sure that you use exterior paint or it won't last long.
Step Eight
Once that's done, you can add cladding to the doghouse using the slats from a few wood pallets. This will make your dog house look even better and give it more protection.
Step Nine
Affix your cedar shingles on the roof. This will give it an extra level of protection
Step ten
Once you've completed the above steps, you can create a neat awning for your dog to sit under. You can do this by gluing a couple of pieces of 3/4inch plywood together and sawing them down to the desired length. Take a hole saw and make a hole in the awning through which you can attach the solar light.
Step Eleven
Fill the house with your dog's bed, some yummy Barking Heads wet dog food, a few toys and introduce him to his new pad. He's sure to love it.
This may seem like a lot of work, but if you have the right tools and DIY skills, you can complete this project in just a few hours.