Nomad33's Treasures: Objects, Art, and People.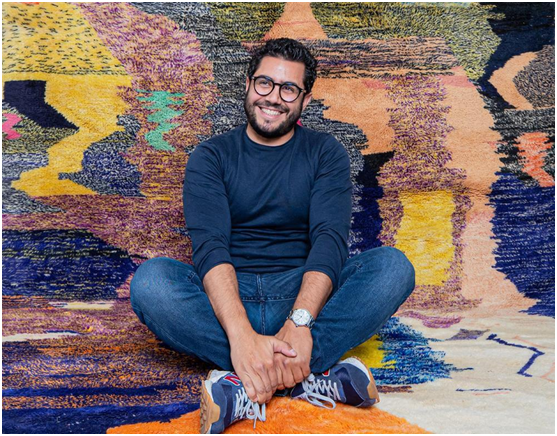 Webster's dictionary defines the word "Treasure" as something of great worth or value, also: a person esteemed as rare or precious. It always makes us feel prideful whenever we're reminded that Nomad33, in essence, is a combination of both meanings!
The first kind: the material, tangible, and showcased treasure is a collection of artefacts. Some of which have been in Galvinsky's possession since he was a teenager. These include ancient kitchenware and ornamented household objects, as well as tools that were used to make Berber rugs. Some have belonged to his great grandmother. He felt like he had no other choice but to put the tools on display at our studio and gallery. In Galvinsky's words; 
"… those tools bestowed a sense of affinity upon me. I knew that if I exhibited them, everyone would have the same feeling. "
In addition to the age-old heirlooms, our Nomad33 gallery holds many stupendous paintings that were the creation of renowned French painter – Jacques Majorelle. Colourful and perfectly Moroccan works of art fill our gallery, and we're trying our best to preserve these treasures.
The second kind: the loving, diligent, and immensely underappreciated treasure is the happy assembly of the Atlas' most talented bunch – Berber women weavers.
These remain as Nomad33's functioning and far precious treasure. Without them, there wouldn't have been a Nomad33 as we know it. They are the ones that ensure our designs' flawless depiction on smooth, seamless fabric. They shear, dye, and weave everything to perfection.
We do, however, have another type of treasure. Also a collection – a larger one.
Over ten-thousand vintage rugs are in stock! Their virtue is that they offer the best of both mentioned treasures. Our vintage Moroccan rugs are antique, valuable, and of great worth, as well as hand-made, perfectly sewn, and Berber creations!
Only at a special occasion where we'll decide to put one out for sale. But, as demand keeps increasing, we have no option but to share our accumulated treasures with people that indulge in historical art.