Stunning Finished Basement Ideas and Designs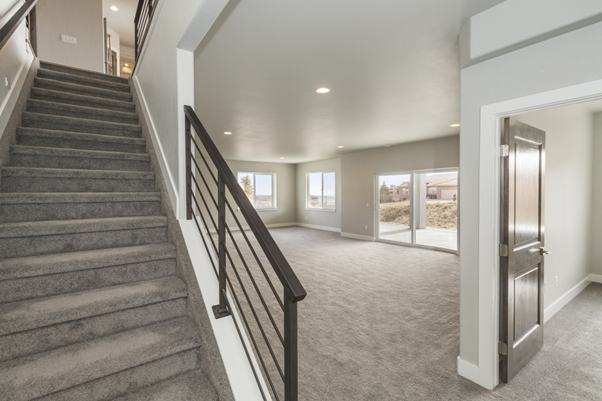 Have you been thinking about redesigning your basement?
Instead of having a concrete floor with your washer and dryer down there and nothing else, maybe you want to have a basement remodel to make it a place where you can spend time.
While there are many ways to finish a basement, here are a few finished basement ideas to spark your creativity and get your project started! 
Redo the Floors First
The concrete flooring that your basement most likely has before it's finished is not the most visually appealing. To change this, you'll want to start your basement remodel from the ground up.
Depending on the look you are going for, there are many basement flooring options to choose from.
Add in a Wet Bar
If you are planning to redo your basement with a couch, a TV, and an area where people hang out (friends who come over or your kids' friends), then you may want to consider adding in a wet bar.
This way, there is access to a mini-fridge, a sink, and a counter area to prepare snacks and mix fun cocktails.
If you're feeling fancy, you could even make the wet bar a full kitchen area! Consider adding in a stove and an oven so you can bake treats or cook a frozen pizza on a cozy night in.
Make It a Wine Cellar
Have you ever wished that you had a wine cellar in your house? Well, if you have a basement and are thinking of basement renovations, why not make the basement your very own wine cellar?
You can incorporate a bar area for "tastings" and entertainment purposes, create shelving to show off your wine collection, and add in a lounge area for you to enjoy your wine with your significant other or great friends. 
You may want to also include a fridge in the build so you can store cheeses, fruits, and other fun appetizers for more convenient snacking.
Add Gym Equipment To Create an At-Home Gym
If you are tired of driving to your local gym, creating an at-home gym is a great option during your basement renovation.
Whether you make the entire basement the gym or dedicate a part of the basement to be the gym, you'll enjoy walking down a flight of stairs to arrive at your gym.
If you choose to add a gym, add in a large mirror on the wall to give the appearance that the space is larger and brighter than it is.
Finished Basement Ideas For Your Dream Home
With these finished basement ideas, you'll have your basement remodel under construction in no time.
Whether you are choosing to make the basement a gym, a wine cellar, or a hang-out area, there are endless options to make it a space that you love.
Did you enjoy reading about these different finished basement designs? Be sure to check out some other fun blogs on the site!