The Different Types of Home Flooring Options That Exist Today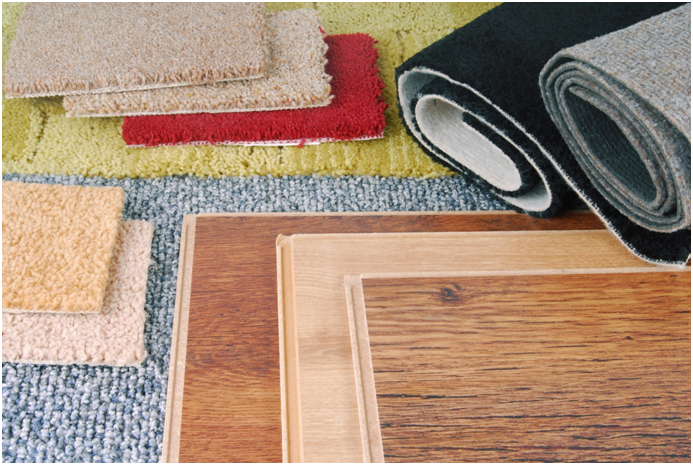 Are you looking to redo the flooring in your home?
Redoing the flooring in one or more of the rooms in your house is a big job, but as long as you chose the right flooring, you may never have to do it again. Choosing between the various types of flooring can feel a bit overwhelming, but as long as you know what your options are, you can make the best decision for yourself and your house.
Today, we're going to look at these different types of home flooring so you can figure out what you really want. Read on and you'll have all of the flooring info you need to make your choice.
Hardwood
When you invest in hardwood floors for your home, you're going with luxury and durability. Most hardwoods are made from maple, oak, walnut, or cherry and come in a variety of finishes, making hardwood one of the most versatile types of flooring. It's also one of the more expensive options, so installing it throughout your home will cost a pretty penny.
Because it can be refinished more than once, hardwood is a good option for adding value to your home. It's best used in living areas and the kitchen, but if you've got the budget, you could feasibly put hardwood anywhere you want.
Laminate
Laminate is a great option for those that want the style of hardwood without forking over the money to install it. They're made of a particleboard base and topped with wood or tile beneath a plastic layer. Again, you've got countless options when it comes to style and it's really easy to install on your own, so you won't need to pay for installation.
Like wood, it's versatile and works especially well in the kitchen. It's fairly scratch-resistant and easy to clean but is susceptible to water damage. According to Ultimate Floors, laminate is one of the best home flooring options.
Vinyl
Vinyl, like laminate, is great for DIY residential flooring projects and is the most affordable water-resistant option on the market. It's made of plastic and available in a variety of forms (plank, tile, etc.) and finishes, so you can easily put it in any room of the house, though it's best for bathrooms, laundry rooms, and basements.
Tile
Tile is also extremely water-resistant, which makes it the best upscale option for areas that deal with lots of moisture, like bathrooms, laundry rooms, basements, and even kitchens. You can get either ceramic tile on the cheaper end or porcelain tile on the pricier end, with both coming in a number of styles.
Carpet
Last, but not least, carpet is among the top choices for bedrooms and living spaces. New flooring industry innovations have made carpets more stain-resistant, which would have been a concern for most homeowners in the past. Carpet comes in a wide variety of materials and thicknesses, so there's a wide price range for installation.
Carpet is great for soundproofing and tends to give your room a warm, homey quality.
Which Types of Home Flooring Will You Choose?
So, now that you've gotten a rundown of the many types of home flooring, you can make a decision on the best ones for your house. Our advice would be to take a room-by-room approach to figure out what type of flooring each one would benefit from, but it's your house, so if you want to cover it top to bottom in carpet, that's your prerogative.
Did you find this post helpful? Come back again for more construction and home tips.