The Right Kitchen Layout Makes the Most Efficient Use of The Space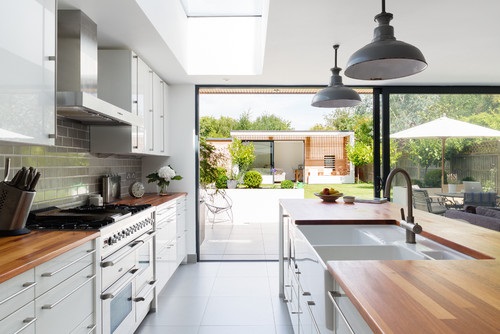 If you are considering remodelling your kitchen, it is imperative to take into account the amount of storage space needed, the way you plan to use space, cooking style, time spent on each workstation and budget. Some may want to combine the cooking area with dining in an open-plan space depending upon the availability of space.
Remodelling your kitchen, rooms or bathroom can be easy and affordable with yourwaycontractors.com. Check out for them and get the service at an affordable price.
A home kitchen typically includes the sink area for cleaning and preparation, the refrigerator and the cooktop for stove or oven. There are different kitchen layout options available. The best cabinetry solutions can be achieved by choosing the right layout.
You can find a wide range of kitchen cabinet options at Kitchen wholesalers, Montreal. Their cabinets are made from the finest materials and enhance the aesthetic appeal of your kitchen. Start by choosing the layout for your kitchen before deciding on the cabinet options.
Working triangle:
Some consider the classic 'working triangle' to decide on the layout style. It is based on minimizing the walking distance between the sink, fridge and cooking area by positioning them on three points of a triangle. In cases where you have to position all three units in one wall, you'll have to flatten out the triangle.
Different kitchen layouts:
Galley kitchen: It has two parallel walls with a walkway in between. It is ideal for small spaces, narrow rooms and open-spaces. Though it is traditionally narrow, if planned correctly, it is exceptionally functional.
One-wall kitchen: You'd find it in loft apartments and studio flats and utilizes minimum space. The three main work centres are places in a straight line. Placing the workstations side by side isn't a good idea since you'll lack counter space between each of them which would make your kitchen appear cluttered.
U-shaped kitchen: The units are placed around 3 walls forming a U shape. By placing the cooking area at the centre and fridge and sink at either side of the U, the space is used efficiently.
L-shaped kitchen: The three workstations are placed in two walls forming an L-shape and ideal for smaller spaces.  You can utilize the leftover space to place a small dining table.
Island kitchen: An island sits in the room centre surrounded by other workstations. It serves as a multifunctional space and cuts down legwork between work station.
G-shaped kitchen: It is quite similar to the U-shaped layout with a partial fourth wall. If you feel it looks too cramped, you can open up the wall of the nearby room.
The shape and size of the room will help in determining the layout. Ask a professional kitchen designer for advice.