5 Small Kitchen Ideas That Use The Space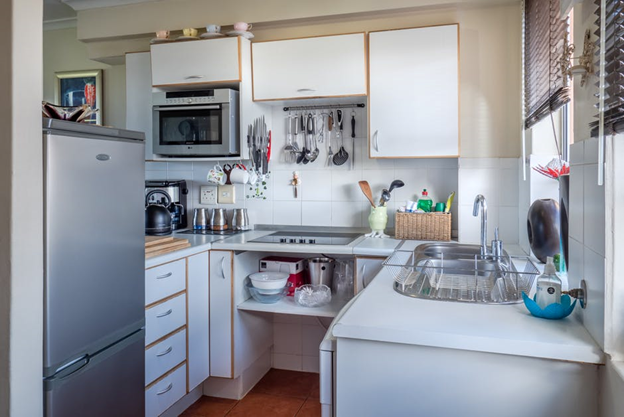 Did you know that the average American kitchen is just over 100 square feet in size? With so many kitchens bearing smaller kitchens, it's important to maximize small space for your small kitchen design. Creative design choices can help make your space as useful as possible.
If you've been looking into implementing some small kitchen ideas, we're here to help. Read on for five great ideas to maximize your available space.
Food Preparation Area
One of the first things you can do for your kitchen is to dedicate an area to food preparation. If you have a bit of extra room, you can add an island to your small kitchen layout. Doing so will give you an isolated area where you can prepare food ingredients without worrying about cross-contamination.
If your kitchen isn't large enough for this, consider simply dedicating a section of your countertop. Focus your knives, cutting boards, pots, and other such equipment in this area. That way, you always have an area clear for you to prepare your meals.
Organized Cabinets
Organizing your cabinets is another great way to capitalize on your space. Cluttered cabinets hold fewer dishes and kitchen essentials, making it tough to fit everything you need.
Consider a cabinet remodeling if you'd like to make your cabinets more organization-friendly. Adding extra shelves, widening areas that you can, or otherwise improving storage is a great way to maximize small space.
Easier Chores
Another way to streamline your kitchen is to make your chores and tasks easier to tackle. You can easily accomplish this by setting your areas up in a way that complements the tasks.
For example, consider setting up your kitchen sink with an organized spot for dirty and clean dishes. Doing so will stop dishes from just piling up and let you handle them appropriately. You should also keep your trashcan in a place where you can change the liner without much hassle.
Dining Areas
In some homes, kitchens don't have a dedicated dining area, making it tough to fit everything in. You can battle this by designating your own!
Adding something like a breakfast nook or table to your small kitchen design can help save on room ultimately. Not only does this help streamline your kitchen, but it also helps keep things sanitary so you aren't eating over your food preparation areas.
Vertical Storage
If you're running out of counter space, consider adding your walls to your storage! Magnetic strips make a great place to safely store knives and larger kitchen implements. Doing so will stop things like spatulas and steak knives from clogging up your space.
Using Small Kitchen Ideas
Putting your small kitchen ideas into effect can help open up the room in your restricted space. Implementing these ideas will make your kitchen a more efficient and enjoyable part of your home to work in.
For more information on how to make the most of your kitchen storage, feel free to browse our site to learn more.