7 Essential Tips to Buy the Perfect Bedsheet Online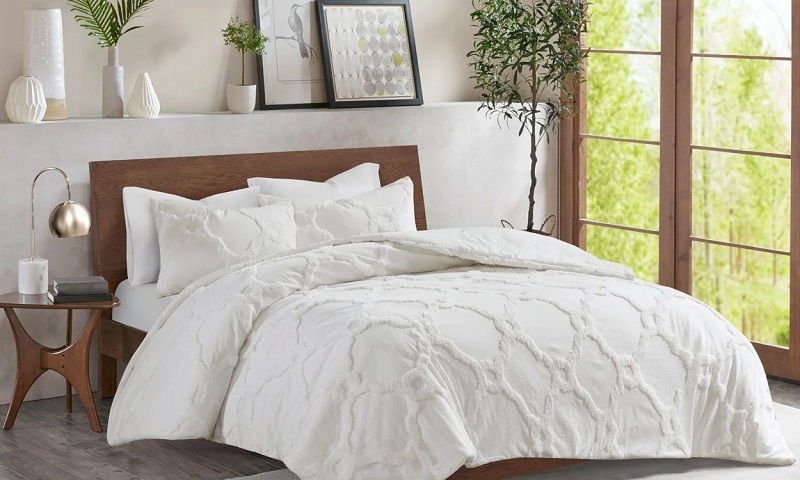 Bedroom decor is not just limited to a stylish bed, mattress, cabinet, desk, and wardrobe. Bedsheet also adds on to the style element of your decor. A shabby bedsheet can be a major put-off and ruin the look of your lavish bedroom, whereas a beautiful bedsheet can take the decor of your bedroom a notch higher.
Moreover, a bedsheet plays a vital role in your sound sleep. Similar to a bed or mattress, you need to choose your bedsheet well. You cannot merely select a random bedsheet for your bed, as it might lead to skin issues in case of any fabric allergies. Certain materials that work best for others might not be suitable for your skin and may cause discomfort while sleeping. Therefore, you must choose your mattress, considering some essential factors.
Here are some quick tips that you can follow while buying a bedsheet online:
Choice of material:
Right from polyester, silk, cotton, satin, to synthetic, you can choose from a wide range of bedsheets. The choice of material matters a lot, considering the changing seasons in India. It would be too difficult to sleep on a satin or silk bedsheet during hot summer nights. A cotton bedsheet would be ideal during these days, as cotton is lighter and breathable. It will absorb the sweat allowing you to sleep in peace. During rains, light fabric bedsheets are easy to wash and dry.
Also, your skin compatibility with fabric wins a vote. What might work for your friend might not work for you. You might be allergic to synthetic material, whereas your partner might just do well. So, you must choose a bedsheet depending on the type of climate and your skin type.
Every thread counts:
Buying a bedsheet online can sometimes be risky, as you might not know about its thickness. To save you from such risks, a trick here is to look out for the thread count. As per manufacturers, anything above 140 is considered to be good. It would be comfortable and soft to sleep.
Don't forget the size:
You do not want to keep tucking in your bedsheet every time it slips off and comes out due to its small size. Hence, the bedsheet should be of the same size as that of your bed. Rather than falling for the print or color and later regretting about the size, it is better to check the size of your bed before shopping.
Adorn your bed with fascinating colors and prints:
Whether floral, animal, abstract, geometrical prints or solid colors, every room demands an ingenious bedsheet design to match its style. You can choose a bedsheet that features geometrical prints for your traditional styled bedroom. But it will be a big no-no in terms of trend and design. Therefore, you should purchase a bedsheet that will complement the room decor pretty well. If your room has loud walls with textures or prints, you can consider going subtle on the bedsheet design. For a room that has a light ambiance, you can pick a quirky bedsheet with some loud prints or bold colors.
Find the purpose:
Not all bedsheets are suitable for everyday use. Some are designed ingeniously, and using such bedsheets daily might end up ruining its texture. So, such bedsheets are best kept for special occasions and festivals. You can use them when you have guests or friends coming over. For daily use, you can choose bedsheets that are subtle and made from lighter materials.
Weave:
The kind of weave decides a bedsheet's softness and durability. You can choose a percale bedsheet if you prefer it to be lightweight and crisp. It will help you stay cooler throughout the night. If you prefer a smooth bedsheet with a lustrous finish like satin, then bedsheets with sateen weave are best. For ultra-soft finish and excellent wrinkle resistance, you can opt for a microfiber bedsheet.
Check for return policy:
It is always best to check for the warranty or return policy of the bedsheet. In case if you don't like it or find any defect, you do not want to be stuck with the one that you dislike.
To sum it all up!
These were the basic 7 tips that you can consider when shopping for a bedsheet, then be it online or offline. Next time you visit a physical store or choose to explore online, these tips should come handy while picking the perfect bedsheet for your bed.