A Home Skylight: The Window You Never Knew You Needed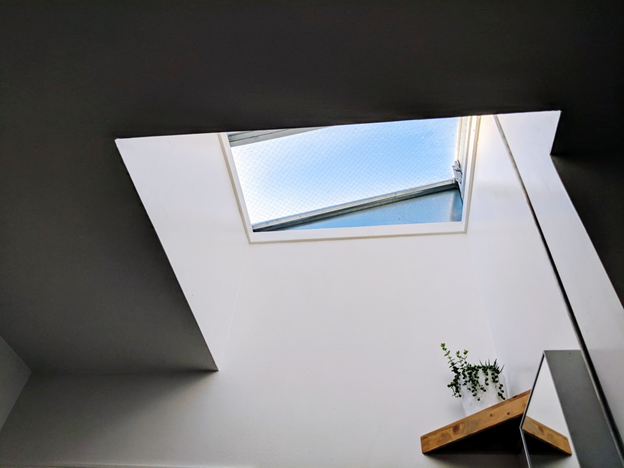 The average US household consumed 893 kilowatt-hours of electricity per month in 2021. However, many states in the country used more; for instance, Louisiana averaged 1,201 kWh. Mississippi ranked second, coming close at 1,146 kWh.
With such high usage, it's no wonder monthly electricity bills in some states go over $130.
Sounds familiar? If so, it's high time you consider improving your home to achieve better energy efficiency.
Adding a home skylight is one way to reduce your energy consumption and bills. Moreover, it can bring health benefits and also help improve your property's appearance.
With that said, we created this guide to help you decide whether skylights are a good investment. So, read on to learn their benefits, drawbacks, and how to counter those disadvantages.
What Is a Home Skylight?
A skylight is a glazed opening installed on a flat or a pitched roof. You can think of it as a window, except it's overhead instead of on a wall. Thus, it's an excellent addition to rooms where vertical windows are not a viable option.
What Are the Benefits of Skylights?
Because of their location, skylights for homes help increase natural daylighting. Moreover, they can provide ventilation to windowless rooms. Large-sized skylights, sometimes called "roof windows," can even serve as emergency exits.
Natural Daylighting for Reduced Energy Use
Homes in the US used about 59 billion kWh of electricity for lighting in 2021. That's approximately 4% of the residential sector's electricity consumption that year.
So, if you pay $1,500 a year for electricity at home, around $60 of that ($1,500 x 4%) goes toward lighting alone. That may not seem like a lot, but it adds up in the long run; $600 within ten years.
Fortunately, a skylight installation can help lower your household's energy consumption for lighting. After all, this glazed opening admits more natural light than vertical windows. Therefore, it can reduce your need for artificial lighting.
The fewer lights you need to turn on, the lower your lighting costs. Plus, exposure to natural light is an excellent way to get some vitamin D into your system.
Improves Ventilation for Better Health
Skylights can improve your attic or loft ventilation. Likewise, it helps boost airflow in windowless rooms, especially bathrooms.
Ventilation, in turn, is crucial because it moves outdoor air into a room. Doing so helps create healthier spaces by diluting the pollutants in the air within them.
In addition, ventilation removes contaminants from indoor air by moving the air outside. It does so by exchanging indoor air with fresh air from the outdoors.
Please keep in mind that indoor air can contain two to five times more pollutants than outdoor air. Such hazards can result from poor ventilation since the contaminants remain indoors. Over time, exposure to unhealthy air can cause respiratory and even skin problems.
So consider adding a skylight to boost home ventilation for your family's well-being.
Provides Emergency Access or Exit Routes
Emergency exits provide a safe evacuation method in a crisis or disaster. Conversely, first responders can use them as an entryway to a building during such events. For instance, firefighters can enter them to save people during a home fire.
You can have a larger-sized skylight installed at home to serve this extra purpose.
Keeps Things Private
Considering the location of skylights, they boost daylighting and ventilation without compromising privacy. That makes them an ideal alternative to vertical windows for upper-floor bathrooms.
Ventilation is even more crucial for bathrooms, as these rooms tend to be damp. That unwanted moisture can then promote mold growth.
By adding a skylight in such rooms, you can prevent mold from growing all over the walls and floors.
What About Potential Drawbacks?
The fact that skylights are on the roof makes them more susceptible to heat gains and losses. For example, they can allow more warmth from the sun to enter your home during summer. Then, in the winter, they can let conditioned air from your heating system leak to the outdoors.
Another potential problem with skylights is moisture penetration. That again has to do with their placement; rain and snow can enter them if they're open or have leaks.
How Can You Prevent Skylight Problems?
Fortunately, you can prevent such consequences by choosing an energy-efficient skylight. For instance, you can invest in double- or triple-glazed products. They have extra insulation, allowing them to minimize heat gains and losses.
It's also wise to stay conservative when choosing your skylights' size. Remember: Even small skylights can admit the same amount of light as a typical wall window. So unless you want them to serve as an emergency exit, it's best to get a smaller-sized model.
Just as crucial is to work with a reputable skylight installation company. These professionals will properly install your skylights to ensure they don't leak.
You can also invest in automated skylights that give you remote control access to them. These products come with automatic openers, allowing you to close or open them with a touch or a tap of a button. So, you can shut them right away when it starts to rain or snow.
Some skylights and openers even have moisture sensors. These devices automatically trigger the glass to close when they sense rain. That can give you more peace of mind, especially if you left the house and forgot to shut them.
Consider Investing in Home Skylights
As you can see, a home skylight can provide some rooms in your home with enough natural light. As a result, you can reduce your reliance on artificial lighting, helping you cut energy costs. In addition, they can improve ventilation and even serve as emergency routes.
So, why not consider adding one or more skylights at home? Just make sure you choose energy-efficient models and hire pros for their installation.
Are you looking for other home improvement tips and tricks like this? Then please feel free to browse more of our latest blog posts now!