How to Design a Farmhouse-Style Kitchen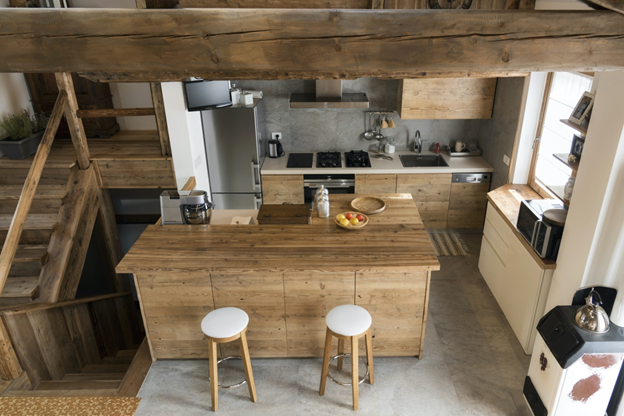 When you walk into a farmhouse-style kitchen, you can almost smell home cooking and be warmed by the thought of grits and gravy. In recent years, the farmhouse style has risen in home décor. When building your design you need to intentionally add elements of warmth, depth, and contrast.
The farmhouse kitchen is celebrated for its rich character and sense of coziness. By interweaving exposed wood and hard features with woven textiles, you can truly create a little farmhouse kitchen fit for some American cooking.
Keep reading to learn more about design elements you can incorporate into your farmhouse-style kitchen.
Bring in Authentic Ranching Elements
Ranch-style spaces are functional and artistic, they work to blend modern and rustic elements. By working with authentic dealers and rummaging at estate sales and consignment you can get amazing pieces that stand on their own. Click here to read about ranch decor ideas.
Incorporate Colorful Elements
The farmhouse style is not just neutral, it leaves room for an interesting pop of color. A farmhouse-style kitchen can bring in a strong accent color such as blue or green to help add interest to the space. When picking a color, you should investigate earth tones to match the exposed wood as your additional color.
When designing within the farmhouse aesthetic, you need to find a balance between warm and cool tones. The cool tones are a staple of modern design whereas, the warm tones are in sync with a full-blown farmhouse design.
Try Exposed Shelving
Kitchens are an incredibly functional space. They are stocked with pots, pans, and utensils. To optimize functionality and add more varying textures to your space you should incorporate exposed shelving into your design.
. You should use display bowls, greenery, and cookbooks to help stock these shelves. Having open shelving will allow your platters and bowls to add depth to your space and let you keep some elements even handier.
Get Hardware that Stands Out
In a farmhouse-styled kitchen, you want to focus on a variety of textures. The farmhouse style is built upon a mixture between modern and rustic. Hardware is the perfect platform to add a dramatic flair.
By using bold materials, you can draw attention to your cabinets and other design elements. Many interior designers opt to use brass or copper to complement the farmhouse style kitchen.
Lighting is Key
Farmhouse designs thrive off oversized lighting fixtures and lanterns. These fixtures are one of the focal points of your design so should capture the eye when shopping around. For cohesion, you should try to make your light fixtures match your hardware.
Design Your Farmhouse Style Kitchen
A farmhouse style kitchen showcases a blend between function and comfort. By blending modern and rustic elements, you can design a beautiful farmhouse style kitchen to call home.
Liked this article? Connect with us to read more like it.