Features of a Modern Home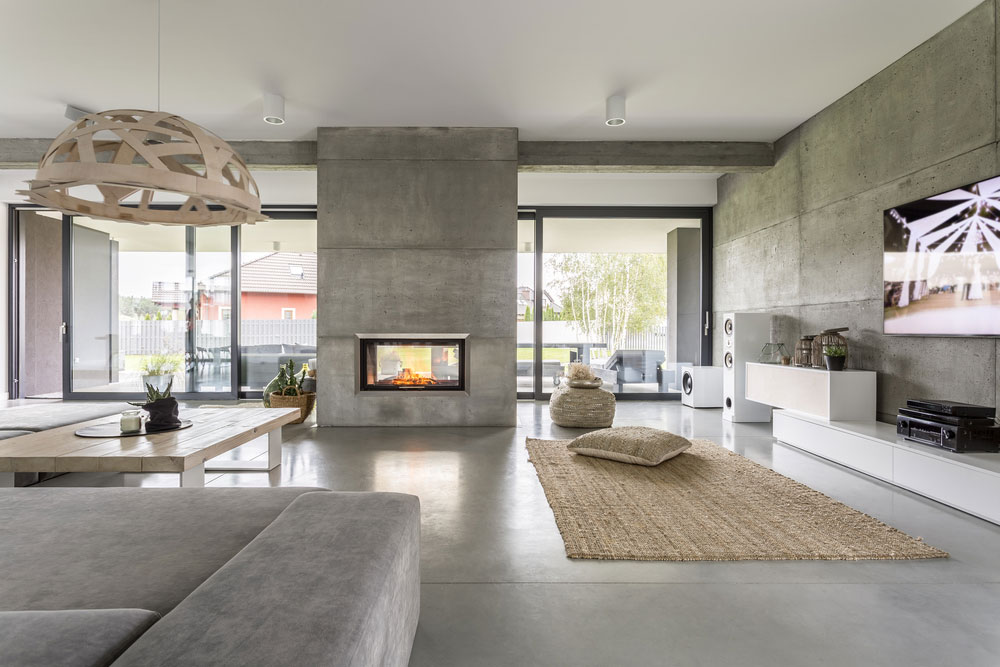 Unlike traditional homes, modern houses have simple and geometric shapes. As a result, you will find clean lines and intentional asymmetry in place of features like arches, ornate columns, and window shutters.
They also emphasize energy efficiency and sustainability. For example, sizeable unadorned glass windows soak up sunlight and lower the home's heating and lighting bill.
Strong Horizontal and Vertical Elements
One of the most essential features of modern home designs is the strong horizontal and vertical elements. It helps create balance and harmony in the space, promoting serenity and calmness.
As framing elements, horizontal lines are often associated with strength and grounding. They also help create a feeling of height. These lines are usually found in landscape photography and can be especially effective when the viewer looks straight at them. Keeping them aligned with the frame edges will enhance their impact on the eye.
Large, Unadorned Glass Windows
Significant, plain glass windows may significantly alter the atmosphere of a modern home. They can remove the spotlight from artwork and busy wallpaper to focus on natural light instead, making your space feel brighter and more welcoming.
Another popular feature of modern homes Dallas is the open-concept layout. It allows the family to stay connected even in different house rooms. It can also be an excellent space for entertaining.
Lofted Areas
Lofts are famous for their large open spaces and high ceilings. However, they're also an excellent option for maximizing their space.
They're also ideal for families, as they offer lots of space for kids to play. They're also popular with renters who prefer a more unique, urban lifestyle.
Originally, lofts were converted from commercial buildings and warehouses. They're still found in former industrial areas, but they're now also prevalent in residential neighborhoods.
Open Floor Plan
An open floor plan is one of the homes' most common modern features. This layout involves connecting at least two traditional rooms by removing interior partition walls and combining the kitchen, living room, and dining room in one large area that allows traffic flow.
It can make entertaining more accessible and more social, and it helps keep your home more energy efficient by allowing natural light to fill every space. Additionally, it can also improve your mood and productivity.
Skylights
Skylights add a great deal of natural light to the inside of your home and can be used in almost any space. From kitchens to bathrooms, even mudrooms, they're a great way to connect the outdoors with the inside of your house.
Skylights are available in various styles, including traditional, contemporary, transitional, and mid-century modern. They're also easy to install, making them popular for homeowners who want to add more natural light.
Wall Panels
One of the most versatile interior design tools, wall panels add style and depth to your space. They can be made from various materials, including wood and metal.
Depending on the material, paneling resists scratching, dents, and stains. Additionally, it is an excellent option for areas with a lot of traffic, like bathrooms and kitchens.
Vertical Gardening
One of the simplest ways to bring a touch of nature to your home is by creating a vertical garden. Whether you opt for a park on the wall, in a dresser, or a planter tucked into your fence, it adds elegance and helps recycle items that might otherwise be thrown away.
The key is to choose a material that is strong enough to support plants and soil and light enough to withstand wind and rain. It is essential if you are growing indoors, as heavier plants can cause your planter to fall over and make a mess.
Open Concept Layout
An open-concept layout removes walls separating rooms to create one large space serving multiple functions. As a result, it eliminates wasted space and maximizes natural light throughout the home.
It is essential in homes where small children and pets can run around. In addition, it allows parents to assess whether their little ones are in trouble quickly.