How do you get into your house when you are locked out?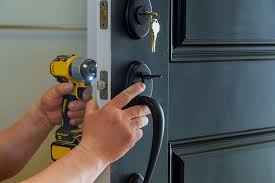 You are running late.  You slept through your alarm.  Your toast burned. You spilled the milk.  You couldn't find the clothes you wanted to wear to work and had to hunt for them.  The plumbing backed up. By the time you run out of the door it seems like a minor miracle that you remembered to lock it behind you.  Then you realize that your day just got worse. You forgot your keys and now you are locked out of the house. What should you do next in order to get back into the house and reclaim your keys?
Start with other entrances:  
The easiest and fastest option is to check the other doors.  You may get lucky and find one of them unlocked. If all the doors are locked then check the widows.  Are any of them opened or a least unlocked? If so, it may be possible to jimmy the fasteners on the screens and pop them out.  You may want to look for a ladder if none of windows on the first floor are unlocked. If that doesn't work consider other possible entrances.  Does the house have a pet door? If none of those work then it is time to broaden your efforts. 
Turn to others who can help:
We all need the help of other people at times.  Being locked out of your home is certainly one of those times.  Obviously, you can try to call someone else who has a key. Someone you live with.  What if they can't get home for some reason? If you had the foresight to leave a spare key with a neighbor for just such an occasion, they might be able to help you.  What if they aren't home either? Another good way to prepare for the possibility of being locked out of your house is to hide spare key some on the grounds. If you haven't done that, then what?  
Get the tools of the trade:
While they are considered the tools of pick pockets and thieves and therefore disreputable, a good set of lock picks can come in handy for honest people who are locked out of their home.  There are many different types of lock picks and some may be more useful than others. Even a good, old-fashioned wire hanger has been known to pop some locks. However, in this day and age, it is likely that your home has more than a simple lock protecting it.  Many homes have sophisticated locks and home security systems. How then do you get into your locked house without your keys? Call a locksmith.  They truly have the tools of trade.  A professional locksmith will help you get into your house quickly, efficiently and without damaging the lock, window screens, your security system or anything else.  If you lock yourself out and need a professional, efficient, locksmith fast then contact Locksmith Smyrna GA today.  We'll have you back in your home or business in no time.