How to Come up With Ideas for Home Office Design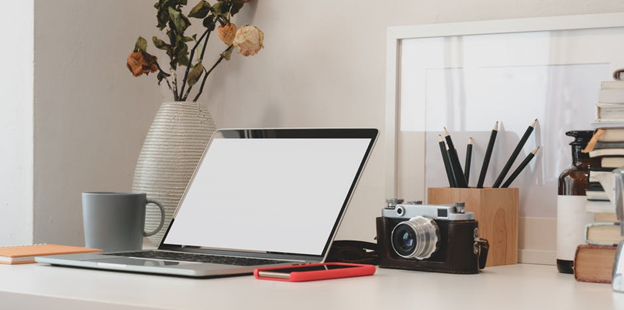 Did you know that over 50% of the American workforce is expected to be working from home by the year 2027?
Yet another exciting adjustment we'll all need to make to the post-pandemic era! Some people may find switching from an office environment to a home office a bit overwhelming, but we've got a few tips that will lessen the anxiety.
How do you start decorating your new home office space?
We've got some great ideas for home office design and decorating tips that will allow you to create an inspiring and functional work space.
Designing a Home Office on a Budget
If you are looking to redesign your home office, or are starting from scratch, there are a few things to consider.
How will the space be used? Do you need a dedicated workspace, or will a corner of the bedroom suffice? How much storage do you need? What kind of decor will help you feel productive and motivated? Once you have a good idea of your needs, coming up with ideas for home office design is much easier.
If possible, try to find a room with good natural light, and if not, make sure to incorporate plenty of task lighting. A comfortable chair and desk are essential, and you may also want to include a small sofa or reading chair. Shelves, filing cabinets, and cubbies will help you keep the space organized, and adding a few personal touches, like photos, artwork, or a fun lamp, will make it feel like your own.
Space-Saving Ideas for Home Office Design
Take a look at your existing home and see if there is a space that could work for your home office. If you don't have an extra room, try to carve out a space in a quiet corner of your home.
Once you have a space selected, it's time to start thinking about your design. Look for inspiration in magazines, online, or even in your favorite furniture stores, then, start piecing together your ideal home office. Interior design companies like www.417interiordesign.com can help you achieve a space saver home office design.
Creating a Productive Home Office Environment
Assuming you have a dedicated room for your home office, the first step is to decide what kind of work will be done there. Do you need a large desk for writing or a computer setup? Do you need space for filing cabinets or storage?
Once you know the basics of what you need, you can start to think about the design. Do you want a traditional office look, or something more creative and inspiring?
This is your chance to really make it your own. Hang artwork that inspires you, add photos of your loved ones, and incorporate items that make you happy.
How to Incorporate Feng Shui Into Your Home Office
If you want to feng shui your home office, there are a few things you should keep in mind. Your desk should be placed in the power position, which is the furthest away from the door. This allows you to see who is coming and going, and also gives you a sense of control over your space.
You should use calming colors in your office, such as blue or green. These colors promote concentration and focus. Finally, you should try to incorporate natural elements into your design, such as plants or stones. This will help to create a sense of balance in your space.
Home Office Design Ideas for Small Spaces
If you're short on space, you'll need to be creative in your design. Think about what you need from your home office. Make a list of your must-haves and use it as a starting point for your design.
Do you need a lot of storage? A comfortable chair for long hours of work? A light-filled space to help you stay focused?
Think about ways to maximize the space you have. If you have a bit more room to work with, you can start thinking about incorporating some home office furniture.
No matter what your budget or space limitations are, there are plenty of ways to come up with ideas for home office design. It just takes a bit of creativity and careful planning.
We want to help you create the atmosphere in your home that you've always had in mind. Come check out our ideas and decide which one will inspire you.