How to Decorate with Floral Rugs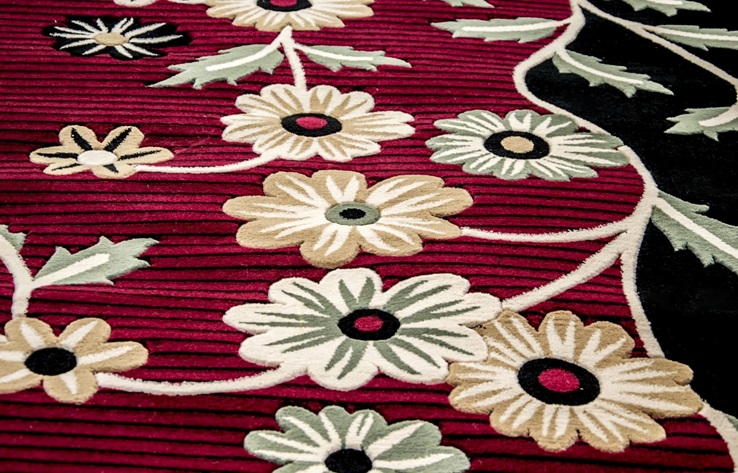 If you're looking for an easy way to add a pop of color and life into your home, look no further than floral rugs. These pieces are not only beautiful, but they also come in so many different styles and colors that there is something for everyone. in this article, we'll discuss how you can decorate and add floral rugs in your home spaces.
1. The Living Room
A floral rug is the best way to add some natural flair to your living room while still keeping a modern and sophisticated look. The key to decorating with a floral rug is pairing it with neutral-toned furniture and decorations. Then, you can add pops of color by placing other bright accents around the room.
Place a floral sofa against a white wall. Then, place a red and white rug underneath for contrast.
Place a gray chair with black legs next to the sofa. Add a side table and lamp to create an inviting reading nook.
Complete the arrangement by placing flowers on the side table and hanging framed art on your walls.
2. The Kitchen
Floral rugs are the perfect addition to any kitchen. Place them in front of your stove, refrigerator, or sink for a splash of color. You can also place one next to your cozy kitchen island for an eye-catching centerpiece
Add bright green curtains along with red and white accessories to complement the oversized floral rug on your kitchen floor.
Place all of your favorite cooking appliances on top of the rug so they can slide out whenever you need to use them.
3. The Dining Room
If you're looking for a centerpiece for your dining room, place one floral rug in the center of the table and your other accessories around it. Don't be afraid to use two or three rugs in the same room. Just make sure they're different sizes, shapes, and colors for a more interesting design. To keep the bold look of a floral rFkitchenug, choose to decorate with black or white furniture.
Add metal chairs around your table to match the lacy pattern on the rug. Then, add crisp white table linens and vases filled with brightly colored flowers for a stunning dining room that everyone will love.
4. The Bedroom
A floral rug in the bedroom is a great way to add some personality to an otherwise boring space. But be careful because you don't want your rug to overpower or compete with your bed. For best results, find a small rug that will sit at the foot of your bed. Then, surround it with bright accessories for a look that's both inviting and fun.
Place your bed near the window for added light, then place a small white rug at the foot of your bed. Next, hang purple curtains to match the pattern on your rug. Add some floral pillows to keep things fresh, then add two brightly lit lamps for some warmth in the room.
5. The Bathroom
Decorating with a floral rug is especially fun in the bathroom. You can use one as an accent piece, or you can cover your entire floor, so you feel like you're walking in a flower garden every time you use the toilet. To create a dramatic and inviting look, start by using rugs of different sizes and shapes. Next, decorate the walls with flower-inspired art to match your colorful floor.
Add some blue accents to create an ocean-like theme for your bathroom. Then, complete the look by hanging a shower curtain decorated with lacy flowers at your tub.
6. The Basement
If you're looking for ways to spruce up your basement, look no further than to a floral rug. For an even bolder effect, install brightly colored lights to complete the look.
Cover your dark floor with flowers by placing one large oval rug in the center of the room. Place some wire chairs around it so you can sit and read or watch TV. Then, add bright blue walls, a battery-operated lamp, and some clean white accessories to complete the look.
We hope you've found this article post useful and that your home has a beautiful floral rug. You can even shop by color or style using our filters! Good luck with getting more flowers into your life.