The Complete Guide That Makes Closet Organization Simple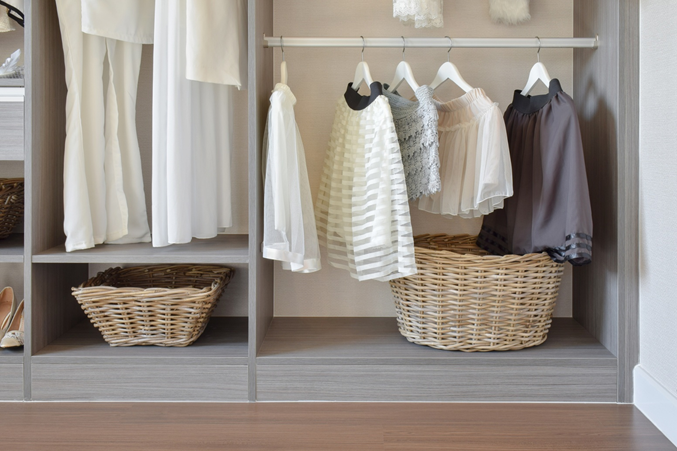 Are you taking the Marie Kondo approach to life?
Undertaking a massive closet organization project is a healthy way to get your life under control.
For starters, decluttering clothes is a cleansing experience. This activity is a great way to cope with stress, job loss, breakups, and other significant life changes.
Even better, you can trade-in your unwanted belongings for quick cash!
Plus, you don't have to hire a world-famous organization expert to tame your walk-in closet. Learn how to take control of your closet space to declutter your space and life.
Take Out the Trash
Approach closet organization like an onion. The job will be much easier if you approach it like an onion, going layer by layer. This approach is also more straightforward.
For example, your first step (or layer) is to take out the trash. Bring a few trash bags into the closet. Remove any visible debris first, including empty shoeboxes, tissue, moth-eaten fabric, and broken items.
There are plenty of items to reuse, like empty boxes and containers. Put any reusable objects off to the side as you clean.
Also, take this time to buy any cleaning supplies you need. This first layer is only your first clean. You're going to perform a deep clean later on in the guide.
Perform a Complete Closet Decluttering
The following "layer" is the decluttering phase!
You'll need plenty of trash bags, dusters, and cleaning supplies handy. You're going to remove a lot of garbage during this step.
Decluttering is also one of the most time-consuming aspects of closet organization. It's best to tackle this step layer-by-layer.
First, pull out all your outfits and declutter.
Separate clothes you want to keep from those you wish to donate or throw away. Remember to thoroughly wash your wanted garments before storing them back in your closet. You may want to buy clothing bags for nice suits, formal dresses, and vintage coats.
Continue with more oversized items, like hats, winter coats, blow dryers, tabletop vanities, and so forth.
Next, move on to the following small items:
Jewelry
Hair accessories
Makeup
Nail polish and manicure supplies
Watches
Belts
Buttons and loose ends
Buy an accessory organizer if you don't have one already. You could buy stackable cases or tabletop organizers if your walk-in closet has tables.
Clean and Disinfect Your Items and Closet
While your closet is cleared out, take this time to de-fuzz, clean, and disinfect your belongings. Most closets don't have windows, creating that familiar musty "mothball" smell. Buy some air fresheners or essential oils to neutralize unpleasant closet odors.
Next, dust your entire closet, including shelves, organizers, and rods. Wipe everything down with an all-purpose cleaner and disinfectant wipes. You may need a degreaser to remove stubborn grime if your closet hasn't been cleaned in years.
Sweep (or vacuum) your floor, depending on your flooring type. However, leave your mopping for the end of this step.
Add a new wastebasket to your closet if you have the room. You could also install a pull-out wastebasket under your vanity table.
Customized Closet Organization
Proper storage maximizes space, helping you fit even more items into your closet.
Tiny closets don't have enough room for vanities and dressers.
However, you can install hanging storage for shoes and accessories. This trick opens up shelf space for more stackable containers. You could also buy large floor baskets for shoes, belts, and other accessories.
The next size up is a small to medium size closet. These closets may already come with shelving and cubby holes. You can optimize space even more with hanging shoe storage, floor storage, and wire shelving inserts.
Yet, customized closet storage is always an option.
You don't need a walk-in closet, either. For example, services like Closet Doctor work with homeowners to remodel wardrobes. Thus, you don't have to worry about customizing storage furniture itself.
Closet customization services are perfect for homeowners who want large walk-in closets. You could even combine your walk-in closet with a bathroom. Some closets even have their own lounge areas, windows, and coffee bars.
Install New Closet Lighting
This step is technically optional. Yet, closet lighting is so helpful.
Change your closet lights if you haven't already. Take this time to switch to LED lights, saving hundreds of dollars in bulbs and utility bills.
Tiny closets need lights too! Mount easy push-lights onto your closet walls. You could also hire an electrician to install a light and switch.
Hanging pull-string lights work, too. However, you may prefer tube lights that run across the closet ceiling. This point offers another reason to work with a closet designer.
Sort Your Unwanted Belongings
By now, you should have a clean closet, disinfected belongings, and new storage units installed. Take the opportunity to reimagine your closet set-up.
First, think about the items you use the most. Such belongings would include your favorite jacket, winter hat, and work shoes. Don't forget frequently-used smaller things, like wristwatches, socks, belts, and hair ties.
Store your frequently-used belongings toward the front of the closet. Thus, you would include hanging shoe storage next to the door frame. You could also install them behind your coats if you have a tiny closet.
There are also mounted closet wall organizers for jewelry, watches, buttons, and small items.
Don't throw out your leftover items just yet!
Sell salvageable items at local thrift stores or hold a garage sale on the weekend. In fact, you may get more money through a garage sale. Thrift stores pay very little for items, and many don't take specific clothing items if they're not in season.
Enjoy the Best Closet for Your Needs
Your closet is more than a landfill. Finally, use your wardrobe again!
Follow this guide to organize your wardrobe step-by-step. Don't forget optional closet organization tips, like push-lights, customized storage units, and remodeling.
Do you need more DIY inspiration?
Follow the blog to enjoy up-to-the-minute updates on your favorite stories.