Ultimate Guide to Buying Bath Towels And Care Tips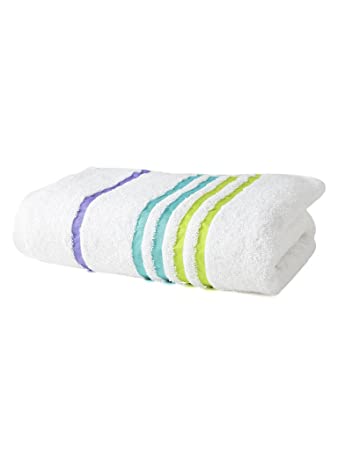 The thought of new bath towels can be an exasperating one, especially when you're unsure of the type of bath sheet you need and the various terms associated with it. Whether you're buying towels online or shopping for towel sets in the shop, it is essential to know these tips to buy the best bath towels. 
Take a look at this quick guide on how to purchase the best bath towel that fits all your needs. We've brought together everything that you need to know before buying one and also how to take care of it. 
How To Buy Bath Towels?
The key to buying soft and luxurious bath sheets are density and fabric. With fabrics ranging from Egyptian cotton to Turkish cotton towels, check out this list for a smooth bath sheet shopping. 
Fabric
If you're looking for a super absorbent towel that also dries quickly, then a cotton bath towel is your go-to. Even in cotton, you'll find various options like Turkish cotton, Egyptian cotton or Pima cotton. These fabrics create ultra-absorbent, durable and super soft bath sheets. 
Make sure, whichever you buy, you pick up a 100% cotton, to be assured of the quality. 
Density
When it comes to density, bath towels are measured in GSM. GSM means grams per square meter. Higher the GSM, better the quality.
300-400 are very light and could also be used as beach towels because they dry quickly. Luxurious ones with a GSM of 700-900 also have a high absorbency level. But if you're looking at daily use bath towels then go for a GSM between 500-700. 
Production Technique
Bath sheets are produced through different methods. 
Combed cotton is where the short fibres are removed, leaving behind the long and strong ones. This leads to the towels being strong and durable. 
The ring-spun cotton technique is when the long and short fibres are tightly twisted together to create ring-like patterns. This makes it more smooth and strong. 
Twist technique is the yarns are twisted to make it more durable. A zero-twist creates towels that are plush and luxurious. 
Size
Lastly, always check the size before buying towels. You don't want to end up with a hand towel when you're looking for a bath towel. A standard size of a bath towel is 27" x 52" while that of a bath sheet is 35" x 60".
Always check the size, whether you're buying online or from a shop.
Care Tips
If you want your bath towels to last for a longer time and remain soft, then you need to take proper care of it. Over time, they collect a lot of dirt and body oils. Make sure you wash your towels from time to time and dry them in a warm place. 
Keeping towels moist for an extended period can lead to it smelling bad and also the growth of fungus, which will make the fibre weak. Washing with fabric softeners can create a stiff texture on the towel which will reduce its absorbency level too.
Check out Portico's website for more care tips and details. You can also purchase their high quality and 100% cotton towels and other home furnishing articles.