What Are the Different Types of Garage Doors That Exist Today?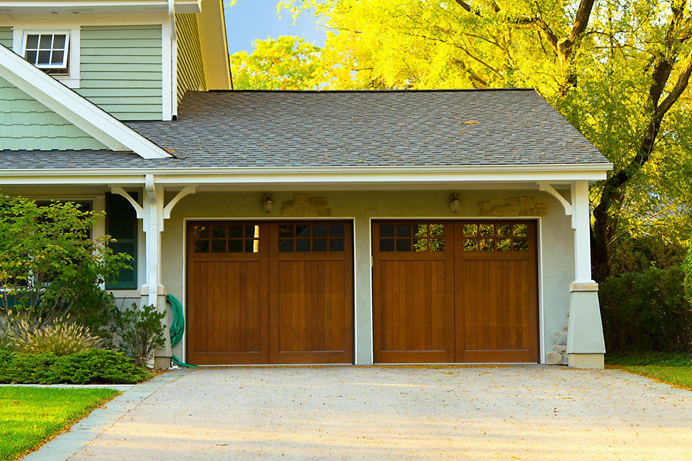 According to the latest cost-vs-value report, replacing your garage door tops the list of high-value home improvements. That's not to say replacing your garage door is only worthwhile when you want to attract a higher home appraisal value.
Every smart homeowner knows a garage remodeling project increases your home's security and convenience, too. So, if your garage door has seen better days, it's time for a new one, even if you're staying put for many years to come.
These are the types of garage doors that might suit your style.
Sectional Garage Doors
These are the most popular residential garage doors in the United States.
That's because they're low maintenance, durable, and customizable according to your home's design. Read this to discover more info about why durability and customizability are important.
Sectional garage doors comprise panels connected with hinges and wheels at either end. As you open the door, the wheels slide inside a curved track that allows the door to come to rest parallel to the garage ceiling.
When you close the door, the tracks guide it back in line with the walls.
The door operates using high tension springs attached to cables that keep the door stable and facilitate the upward and downward movement of the door.
Solid Types of Garage Doors
These types of doors have only one panel that operates on a mechanism that places it out of the way when the garage door is open.
There are three main types, namely:
Tilt-Up and Over Canopy Garage Doors
These garage doors work on a pivoting hinge, so they can tilt up into the garage and sit parallel to the ceiling. The bottom of the door extends past the front of the opening when the door is open.
Tilt-Up and Over Retractable Garage Doors
These types of garage doors hang independently of the door frame, so they don't protrude past the front of your house. They require more space than canopy doors, and they're also more difficult to operate.
Retractable garage doors come with a higher price tag than most other types, which makes them one of the least popular designs.
Side-Hinged Doors
Side-hinged doors swing open like garage doors. They're ideal for garages with limited space either above or on the sides of the door.
They're typically made of wood or wood composite materials and can add plenty of appeal to your home's facade.
Roll Up Garage Doors
These are the best garage doors for commercial properties and are seldom seen on homes. They consist of steel slat sections that roll around a drum and coil up above the door opening.
They're heavy-duty doors that stand up well against adverse weather conditions, impacts, and corrosion.
Keeping Up Appearances
Remember, different types of garage doors suit different styles of homes, so it's important to take aesthetics into account too when doing garage door repair plymouth mn. An excellent, durable garage door might detract from your home's value if it degrades its curb appeal.
Are you interested in refurbishing your home, but not sure where to start? Browse our blog for more information on a wide range of home improvement topics.