Where To Live In Miami: Top Neighborhoods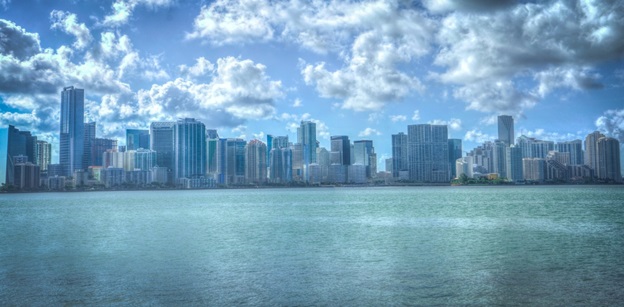 Did you know that Florida's population grew by 2.7 million from 2010 to 2020? This is no surprise, considering that the Sunshine State has become the ideal place to move to if you yearn for warm weather year-round, beautiful beaches, and even some tax benefits.
Although there are many beautiful cities in Florida, Miami has become a target for many because of its diversity and exciting culture. So, if you've been looking to move to the Magic City, you've come to the right place. Read on for the complete guide of neighborhoods to help you decide where to live in Miami.
Brickell
Brickell has become one of the best places to live in Miami for young adults. Because many businesses have offices in the area, it is considered Miami's financial district.
One of the reasons Brickell is so special is that it provides everything you could need within walking distance. With many restaurants, retail stores, cafes, and more, this neighborhood is perfect for young professionals or anyone looking to live in a densly-populated and fast-paced area. In fact, it is a neighborhood that is often referred to as the "Manhattan of the South."
Because it has been growing continuously throughout the years, real estate investors have many fantastic opportunities in the area. Whether you purchase a condo in an older building like 1010 Brickell or choose a newer construction and invest in Baccarat residences, you will love Brickell's unique atmosphere!
Sunny Isles Beach 
If you want to find a nice balance between city and beach life, Sunny Isles Beach might be the right neighborhood for you. The vibrant community has welcomed many new residents in recent years and has become one of Miami's most sought-after areas.
The beach is readily accessible, but Sunny Isles is also full of picturesque cafes, restaurants, boutiques, and some of the most luxurious real estate projects in all of South Florida. Although the area still feels like you are in a city, it is very walkable and has many essential things you could need within walking distance.
Because it has become such a popular neighborhood, investors have taken note. Today, some of the most luxurious real estate projects can be found in this area. From the ultra-innovative Porsche Tower to the sleek and modern Armani Casa Residences, Sunny Isles Beach truly brings real estate luxury to the next level.
Bal Harbour 
Like Sunny Isles, Bal Harbour has become a trendy neighborhood for people looking to move to a beach community. Bal Harbour's upscale real estate projects, restaurants, and boutiques attract many high-profile individuals, including celebrities, professional athletes, etc.
Although the real estate in the area tends to come at a higher price than in other neighborhoods in Miami, Bal Harbour's luxury provides an unparalleled life of tranquility for its residents. Not only is it a small community of under 3,000 residents, but it also has a very central location that makes it easy to access all other popular areas of Miami with ease.
Coconut Grove
If you are looking for a neighborhood that is close to the excitement of Brickell and Downtown Miami but don't want to live in those areas, Coconut Grove might be the perfect place for you. This picturesque Miami area provides its residents with a laid-back atmosphere that is just minutes away from all the excitement that the Magic City has to offer.
Referred to by the locals as "The Grove," this Miami neighborhood is full of historic architecture, bringing a unique aesthetic to the city. In addition, the area is also abundant with parks and recreational areas, making it a great place to move to if you are coming to Miami with your family.
Coral Gables 
Like Coconut Grove, Coral Gables is another fantastic option if you are trying to find where to live in Miami with family. This Miami neighborhood is full of history and culture and provides its residents with a very calm yet dynamic atmosphere.
Home to the historic "Miracle Mile," Coral Gables is full of boutiques, restaurants, cafes, and galleries. Its rich history makes it a wonderful place to walk around and enjoy some of Miami's most beautiful architecture and public spaces.
Aventura 
Located in North Miami, Aventura is one of the best places to live in Miami with kids. Although it is not located by the beach, its proximity makes it a great place to balance city and beach life.
Although it is home to the renowned Aventura Mall, this Miami neighborhood is much more than just a sought-after shopping destination. Aventura is a safe and clean planned community. It has many great schools, restaurants, parks, etc., making it a very diverse neighborhood to settle down in and raise a family.
Aventura provides residents with a suburban-like lifestyle while remaining close to all of Miami's excitement.
South Beach 
Full of Art Deco architecture, historical landmarks, and one of the most sought-after beaches in all of South Florida, the iconic neighborhood of South Beach needs no introduction! If you want to move to Miami and live at the center of what makes this city so unique, South Beach is definitely an area to consider.
With many great real estate opportunities in the area, this neighborhood has the potential of making all of your Miami dreams come true.
Find Where to Live in Miami
Now that you know about some of the best neighborhoods in South Florida, it'll be easier for you to pick where to live in Miami. Whether you prefer Brickell because of its dynamic atmosphere or Sunny Isles because of its laid-back beach vibes, you'll love living in Miami.
Are you looking for more tips and tricks to help you during your move? Make sure to check out the rest of our blog!