5 Home Exterior Renovations You Can't Forget This Summer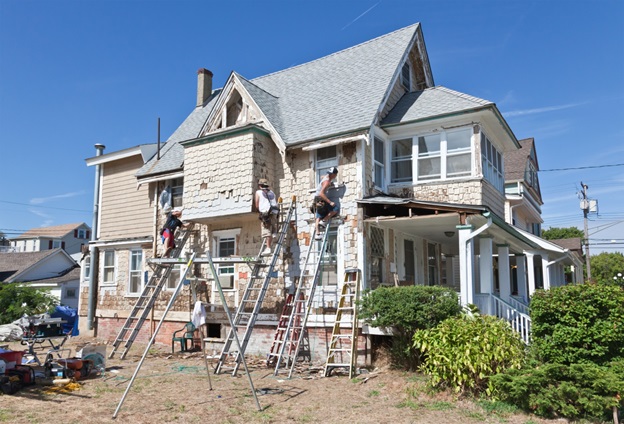 Summer is right around the corner! And with summer comes all the fun things you love to do outside. Whether that's gardening, lounging by the pool, or sitting in the shade with a good book, summer is the perfect time to take advantage of your space.
Summer means better weather and longer days! This is the perfect time to spruce up your home and your yard.
Let's get your home in ship-shape this summer! We'll take a look at five ways your home will be backyard barbecue ready in no time with these home exterior renovations!
1. Clean Your Gutters 
Your home's gutters took a beating over the winter. Drier summer weather is the perfect time to check your gutters for leaks and remove any debris.
You can start with a visual inspection. Are all the gutter screens intact? Is there any leaf matter stuck inside the gutters?
If everything looks good, flush out the gutters with a hose.
This will also help you pinpoint any gutter leaks. You can also have a quick look at your roof while you're up there. If you notice anything amiss call a roofer right away.
2. Exterior Renovations Include Your Yard 
Your yard is your pride and joy. Keep it that way with expert care! Summer is the perfect time to give your yard a little TLC.
Have you considered mulching your yard and flowerbeds? Add mulch to your flowerbeds and around your trees. This inhibits weed growth and makes your yard look neat and tidy.
This also means you can spend less time pulling weeds and more time enjoying your summer. Check out https://www.summitlawnslincoln.com/ to learn more!
3. Exterior Paint 
Painting might be one of the most important home renovations for summer. Warm, dry weather is the perfect time to upgrade your home's look with a fresh coat of paint.
Depending on the material used most experts say you should repaint your home every five to ten years. But what if you're not ready to tackle an entire paint job?
Give your home a fresh look with a new trim color! Switch a neutral color to something bright and fun. You'll be wowed at the big difference from a small change.
4. Power Washing 
You've got a winter's worth of dirt and grime on your sidewalks, driveway, and patio space. Exterior renovations don't have to be big jobs. Grab your power washer and have everything cleaned in no time.
If you're feeling extra motivated use your power washer's window attachment! Now you'll have clean windows to match.
Be sure to use the attachment specifically for windows. If not you might have to add new windows to your summer home renovations list.
5. Check Your Fences 
Winter weather can be hard on fencing, especially wood fencing. Excessive moisture can cause boards to rot, making them weak and susceptible to breakage.
Check your fencing to be sure it held up through the winter. Replace any broken or weak portions if needed. And if you've decided to power wash or paint, why not put your fencing on that list too?
Get Your Summer Home Renovations Started Today
It's never too early to plan your summer home exterior renovations! Use this handy list to get started and you'll finish before you know it. Then you'll have more time to relax in your beautifully upgraded home.
Be sure to check back with us for more home exterior renovation ideas!