Your turf, your choice: benefits of synthetic turf installation & supply only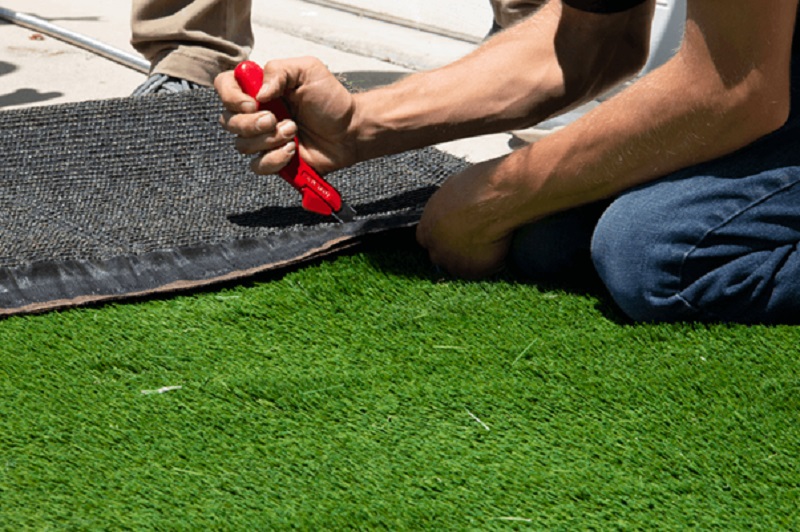 Artificial turf, or synthetic grass, is a stunning way to invigorate your garden's natural beauty. Whether installing it for aesthetic, leisure or sport, you will find a gorgeous green that is perfect for Brisbane homes and businesses. With its cutting-edge, easy-drain properties, as well as its ability to last for years to come, you can trust that you will be choosing a solution that amplifies your space's form and function!
What's more, there are plenty of benefits to choosing professional installers or doing it yourself, the likes of which we will look at below:
The DIY route
If you are looking for the best DIY artificial turf installation Brisbane has available, you'll find it easy to lay if you've had a little landscaping experience in the past. There are numerous benefits to self-installation, making it a dream for home and business DIYers to lay their solution without any hassles.
Benefits include:
Easy-install product
The highest quality artificial grass on the market should be easy to lay out. The modern solution is one that is designed for home handypeople to work to perfection, reducing the required items to ensure that laying the grass is as simple as planting a new lawn!
Do the job in your own time
Of course, you can simply pick up the product, take it home and get to work on laying it. If you're time short, and require the solution for an upcoming event, then you might be itching to get it home and lay it down as soon as possible. Of course, your professional team won't take too long to come around and do the job, but you might just want to get it done as soon as possible!
Cheaper option
If you're a home handyperson who doesn't feel the need for the experts, well, then, obviously your pocket will benefit from home installation. After all, it does cost a little extra for the pros to do it, and that's why most people without experience choose them. But hey, we're not here to tell you how to lay your own lawn – the choice is entirely yours!
A professional service
But, of course, there are aso myriad benefits to enlisting the pros for the job. They will ensure the job is done to absolute perfection whilst doing so in a timely manner.
Benefits include:
Perfect installation
If you have some landscaping experience, but not quite enough to say, "yep, I've got this – no dramas" then you're probably leaning toward the professional installation. And why not? The experts will ensure that the solution looks incredible, providing a natural-looking aesthetic that seamlessly blends in with the surrounding garden.
Less margin for error
Unless you're another professional or have ample experience doing this job, there is always the chance of mistakes being made. After all, it's not everyday you find yourself laying stunning artificial grass – it might just not be your thing! As such, if you're a bit worried that you might not flatten it out the way it simply has to be done, we really recommend calling the pros.
Done quickly, & perfectly
The combination of the job being done quickly and to the highest efficiency is another reason why people choose the pros. They have done it thousands of times before, and come across every scenario you can imagine in this industry. They'll ensure that the job is done quickly and to the highest efficiency!