Interior design styles from around the world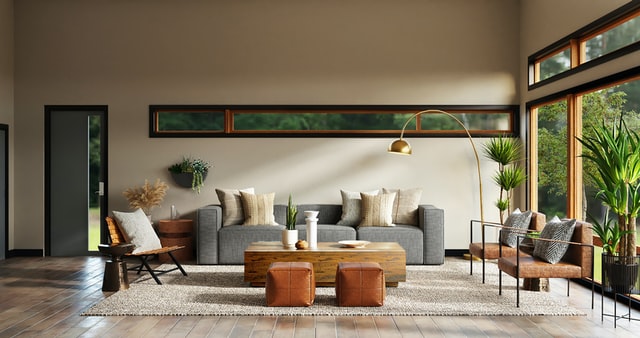 Many people think of art like paintings, sculptures, or drawings. However, decorating your home is also a form of a very personal and unique artistic expression. After all, there isn't one, universal style for decorating your home. Quite the opposite, there are many different interior design styles from all over the globe that you can use as inspiration for decorating your home. You can express interior design trends through furniture and accessories in your home while still adding your personal touch to the space.
When looking for good and healthy home interior design check out the site mrlaifengshui.com.
To help you find an interior design style that fits your personality and through which you can fully express yourself, we've prepared a list of styles of interior designs on different continents.
Interior design styles from different continents
When decorating your home, you will want to focus on one design and add your personal touches to it. However, given that so many rich and vibrant cultures are all around us, it can be difficult to pick one style.
Caption: The best way to design your living space is to pick one style and add personal touches to it.
Alt-tag: White and brown living room set in a bright room with wall decorations and large windows
Here is our guide through interior design trends across the continents that will help you find a style that best suits your personality and preferences.
Interior design styles in Asia
Asian interior design is all about achieving a stress-free home. When it comes to interior design in Asia, there a two distinctively different branches that are dominant:
Far East

(China and Japan)

South Asia

(India)
Feng Shui elements (fire, water, earth, and air) are indispensable parts of interior design in China and Japan. They are evoked by natural and neutral colors which are present in both furniture and accessories. However, don't be surprised by seeing bold colors, too. Although they are present in moderation, you can still see plenty of colorfully painted scenes on ceramics and bold fabrics.
If you want to invite Asia into your home, focusing on a minimalist feel and adding plenty of natural elements are great ways to add a Japanese touch to your home. There are plenty of other Japanese home improvements that will give your home a Zen feel.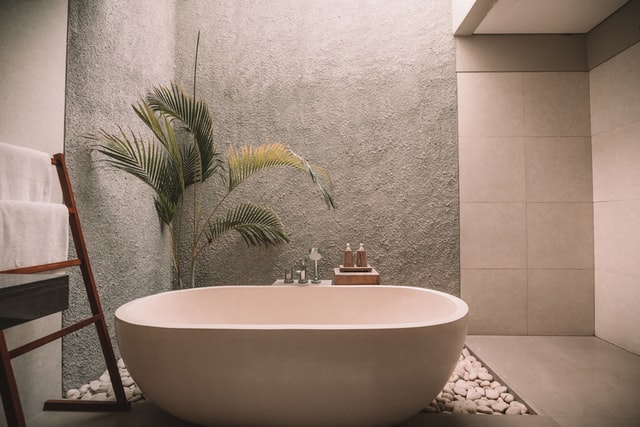 Caption: Asian home design style is all about creating a relaxing and soothing environment in your home.
Alt-tag: A bathroom decorated in one of interior design styles
The second dominant interior design style in Asia is Indian. Even though it went through various European influences, to this day it stays distinctive and unique. What gives this style character is the use of rich and vibrant colors that are inspired by spices. For instance, earthy yellows and reds, and deep purples are quite common. When you enter an Indian home, you'll see plenty of patterns and lots of heavy wooden furniture.
Get inspired by designs from Africa
Africa is known for its originality, dynamic, contrast, and energy which is even shown in its interior design style. It's one of the most exotic styles which is characterized by ethnic elements, animal print accents, and warm colors which dominate this continent.
Interestingly, blue is one of the colors that's almost never present in homes decorated in African style. A good way to implement this style into your home is to add faux skins and furs of leopard, zebras, or cheetahs as accents. Or consider adding exotic masks and sculptures as decorations.
Home design trends in Europe
There is no other continent that has such a diverse and rich interior design scene as Europe. It's known for interior design trends that remain popular for centuries. Here are some of the most famous styles in Europe:
Mediterranean 
Tuscan
French
Italian
Victorian
Eastern European
Scandinavian
For instance, the Scandinavian style favors light and focuses on soft colors. As Northern winters can be extremely dark, they used light furniture using blonde wood to boost the brightness in their homes. If you plan on renovating after moving, adding furniture and accessories inspired by Scandinavian style is a spruce up your new home.
For instance, the Old Word style (Victorian and Baroque style) is known for its rich and deep colors. Also, it focuses on large and comfy furniture. Unlike Scandinavian style which favors decluttered spaces and focuses on functionality, the Old World enjoys ornamentation.
Interior design styles in South America
Even though this continent is geographically very close to North America, they have nothing alike, especially in terms of decor styles. The interior design in South America is filled with creative artistry and inviting ethnic vibes. In fact, many citizens of western countries would agree that Latin American decor style is quirky in a way (but definitely a good one). 
This style is full of color, textures, and interesting patterns that will draw anyone's attention. What is special about this style is its environmentally friendly side. Due to their strong love and respect for nature, Latin American style includes natural elements and organic fabrics. 
North American interior design styles
The North American or Classic American style has a comfortable and simple vibe with minimalist ornamentation. American homes often have materials like stone and wood implemented into their decor and that creates a cozy and natural atmosphere. Also, homes in Northern America mostly have open-plan kitchens. This additionally emphasizes the feelings of comfort and homely warmth. When it comes to furniture, the most favorite picks are cozy and large pieces that have simple lines and patterns.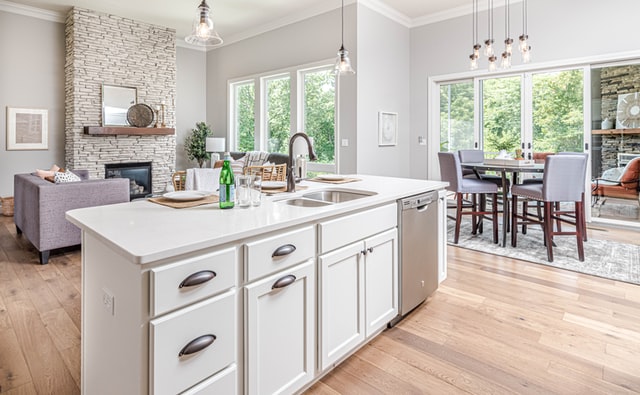 Caption: You can see open-plan kitchens in many homes in North America.
Alt-tag: White wooden kitchen cabinets in the middle of an open-plan kitchen
However, have in mind that nowadays North America is a mix of different cultures, religions, and races. This all influences trends in many different industries, including interior design. This makes it practically impossible to determine what exactly is North American interior design style.
Which one of the interior design styles do you like the most?
We hope our guide through interior design styles from around the world helped you find the one that suits your personality the best. Remember, no matter which interior design style you choose, the most important part is to add a personal touch. Making the space feel your own is a great way to turn your house into a lovely home.
Meta description:
If you're looking for inspiration to decorate your home in a unique way, check out our list of interior design styles from around the world.

Photos used:
https://unsplash.com/photos/9M66C_w_ToM
https://unsplash.com/photos/85pCvDWDMmI
https://unsplash.com/photos/PibraWHb4h8
https://unsplash.com/photos/YqbvabE8AHc